What is the poltentiel of the Quartier Midi ? Check Pilone's "carte sol(id)aire"
Sorry !
This section is not translated in English (yet)
---
La carte solaire du quartier midi a comme objectif d'informer et de motiver les habitants du quartier d'augmenter la production d'énergie verte, et de partager cette énergie. L'idée est de montrer une estimation de potentiel de production d'énergie photovoltaïque (PV) des différentes toitures. Cette production est comparée, à travers d'un code couleur, à la consommation moyenne bruxelloise (2036 kWh/ ménage). Cela montre un potentiel de production dans le quartier du Midi qui est nettement supérieure à la consommation résidentielle.
Cette carte permet non seulement d'identifier le potentiel des panneaux PV, mais aussi d'identifier des quartier, îlots ou même des rues où il y un potentiel de production intéressant, et qui s'apprêtent donc bien pour une auto-consommation collective, une communauté d'énergie qui redistribue le surplus produit par les panneaux PV à ses membres. Cela permet de faire profiter plus des gens de l'énergie verte, locale.
Clickez ici pour voir la carte !
Estimer le potentiel d'un segment de toiture spécifique
Cette fonction permet d'évaluer la productivité des parties de toitures, et peut aider à prioritiser certains segments de toitures. Il suffit de cliquer sur le segment en question.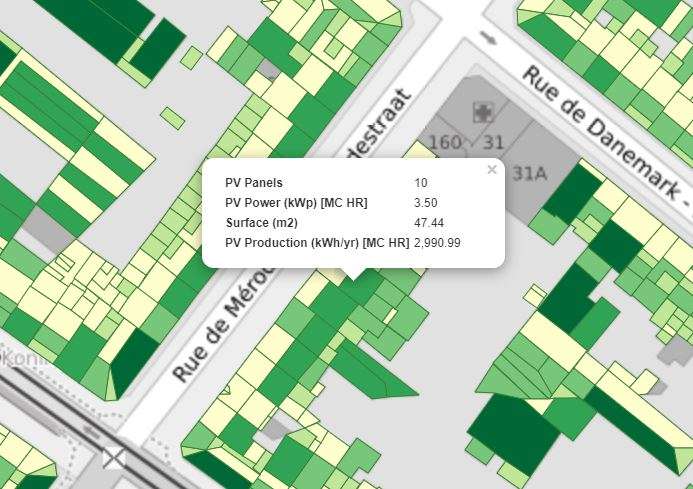 Lorsque vous cliquez sur un segment de toiture les informations suivantes sont affichées :
Surface (m2) : La surface de la toiture en question.
PV Production (kWh/yr) [MC HR] : L'estimation de la production annuelle des panneaux, lorsqu'on considère des panneaux type monocristallin de haut rendement.
PV Panels : Nombre des panneaux
PV power (kWp) [MC HR] : La puissance maximale (crête) lorsqu'on considère des panneaux type monocristallin de haut rendement. Ceci est exprimé en kilo Watt crête (kWp = kilo watt peak en anglais)